Async. Dial-up Modem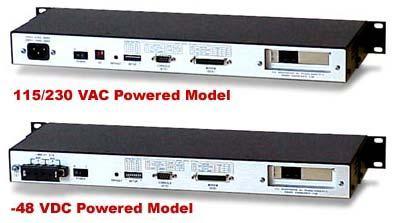 Applications:
Secure, Dial-Up Access to Equipment Bays
Remote Console/AUX Port Management
Use with NetReach Series Multiport Console Switches for Out-of-Band Network Management
Features:
Dial-Back Security
Up to 100 Individual Passwords
Audit Trail Log
Real-Time Clock for Accurate Tracking of Connect Time and Call Duration
Remotely Configurable
Password-Protected Command Mode
AC and -48V DC Power Options
Powers Up to Specified Answer Rings and Baud Rate
Standard "AT" 33.6K bps Modem
Watch-Dog Timer and "No-Activity" Reset
Nonvolatile Parameter and Data Storage
7 Port Model also available
The SRM-100 Secure Rack Modem provides password-protected, dial-in access to rack mounted serial communications equipment. The SRM's non-volatile memory can store up to 100 menu-defined passwords, each with an optional dial back number. The unit can also track access activity for each password and create a log record of successful and unsuccessful connection attempts.
The SRM is ideal for remote installations. The unit always resets itself to a fixed baud rate, and no external "AT" commands are required to configure the modem upon power-up. This provides the perfect solution for communicating with equipment that cannot send an "AT" setup string.
Password Protected Access
Each menu-defined password can be assigned an individual User Name for easy reference, and an optional Dial Back number, which instructs the unit to call the user at a predefined number before allowing access to the secure device. A separate System Password restricts access to the SRM Command Mode. This allows the system administrator to contact the unit via modem in order to change parameters or check access activity.
Access Activity Logs
The SRM-100 provides two convenient ways to track access activity; the Connection Log and the Password Directory. The Connection Log lists the 100 most recent connection attempts, along with the password entered, port used, time, date, call duration, and status at disconnect. The Password Directory displays all user names, passwords, and dial back numbers, and also lists the number of times that each password has been used. The Connection Log and Password Directory can only be viewed by the System Administrator; callers who log on with a User Password are not allowed to view these screens.
AC and DC Powered Models
The SRM-100 is available in both 115/230 VAC powered models and -48 VDC powered models. The AC version features a self adjusting power supply for 115/230 volt AC operation at 50/60 Hz. The -48 volt DC version is ideal for remote locations where AC power may not be available. The DC version features a dual bus terminal block assembly, allowing easy connection to a back-up power source.
Local or Remote Configuration
All configuration tasks are performed via the SRM's command mode. The command mode features a series of command-driven configuration menus, which are used to select port parameters, define passwords and dialback numbers, and review connection activity. The command mode can be accessed locally via a serial DB9 Console Port, or remotely via dial-up connection. This makes remote installation a breeze. Simply plug in the power and phone line, and the system administrator can call the SRM and download all parameters, either by keystroke or ASCII file.
In addition to allowing command mode access by a local system administrator, the SRM's Console Port can also be connected to a secondary serial device, such as a reboot switch. Although most dial-in users are only allowed to access the primary device connected to the SRM modem port, a remote administrator can also access a secondary device connected to the console port in order to initiate reboot operations or take equipment off- line.
The SRM-100 provides three distinct operating modes:
User Mode: Provides password protected access to the secure device connected to the SRM's serial modem port.
Command Mode: Provides password protected access to the SRM command menus, which are used to define passwords and select configuration parameters. When accessed via modem, the command mode also allows access to an optional secondary device installed at the SRM console port.
Unsecured Mode: If necessary, the SRM's security features can also be disabled. When security is disabled, the SRM will function like a normal, unsecured, rack modem; callers are allowed to access the secure device without entering a password