Internet Power Switch IPS-15M-CE and IPS-15S-CE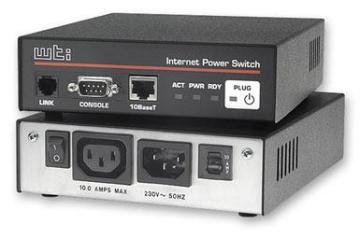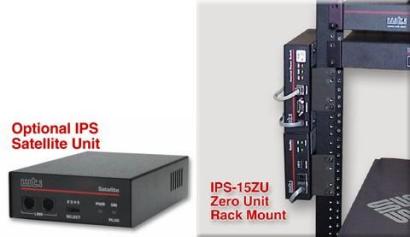 Note: This power Switch is discontinued. Replacement is the IPS-400CE!!
Modular Internet Power Switch
Features:
Web Browser Access for Easy Setup and Operation
Encrypted Password Security
Expandable to Five (5) Individual Outlets as 1 Master and 4 Slaves
Expandable to 17 Outlets as 1 Master and 4 Groups of 4 Slaves
Each Outlet can Switch a 10 Amp Load
On / Off / Reboot Switching
IP Addressed, 10Base-T Interface
RS232 Modem / Console Port
Network Security Features
Manual Power Control Button
The IPS-15 Internet Power Switch allows you to use your web browser to reboot remote units and control power at remote installation sites. In addition to the web browser control interface, the IPS-15 also features a convenient ASCII command line interface via Telnet or using the serial port, which allows the unit to be controlled by commands issued by software. Access to both the web browser interface and command line interface is password protected to prevent unauthorized users from gaining access to power control functions. Passwords are transmitted using basic 64 bit encryption to ensure that they remain protected and that access to your equipment remains secure.
Technical Details
IPS-15M-CE Master Modul, 230 V
1 Output 10 A at 230 V
Control DB-9 Stecker, DTE, V.24
10BaseT Ethernet
Link Port für Slave Modul daisy chained via RJ11 cable
Dimensions W 147 mm, D 178 mm, H 45 mm
Commands ON, OFF, BOOT
IPS-15S-CE Slave Modul, 230 V
1 Output 10 A at 230 V
Link Ports via RJ11 cable
Dimensions W 117 mm, D 178 mm, H 45 mm
Commands ON, OFF, BOOT
Acessoires:
IPS-15R 19"-Rack Mount Shelf for 3 IPS-15EC (1 Master und 2 Slaves)
IPS-15ZU Rack Mount Bracket (1 per Device)